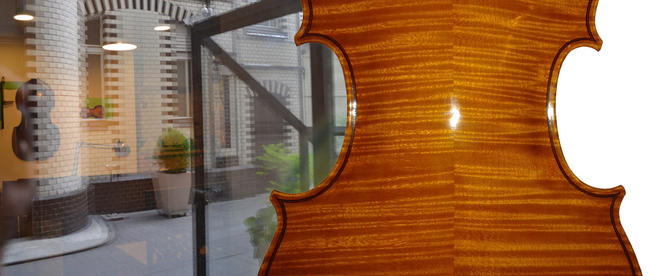 2015 Gold Medal and I' th prize violin category in the VI'th International Violin Makers Competition "Violino Arvenzis" in Dolny Kubin

2014 Prize for the Best Tone violin category in the V'th W. KamiƄski Polish Violin Making Competition in PoznaƄ

2011 Scholar Ministry of Culture and National Heritage

2009 Prize for the Best Tone violin category in the IV'th W. KamiƄski Polish Violin Making Competition in PoznaƄ

2007 Prize for the Best Tone and II'th prize violin secesio violin category in the II'th International Violin Makers Competition in Dolny Kubin (Slovakia)

2004 Prize for the Best Tone viola category in the III'th W. KamiƄski Polish Violin Making Competition in PoznaƄ

2002 VIII'th prize and distinction viola category in the IV'th International P. Tchaikovsky Violin Making Competition in Moscow

2002 opened a luthierie workshop in PoznaƄ

2002 diplom of the I. J. Paderewski Music Akademy in PoznaƄ in faculty of violin making

2001 VII'th prize of tonal qualities of a violin category in the X'th International Henryk Wieniawski Violin Making Competition in PoznaƄ

1999 VII'th prize and distinction violin category in the II'th W KamiƄski Polish Violin Making Competition in PoznaƄ

1996 diplom of the A. Kenar Lyceum of Fine Arts in Zakopane and diplom of School Music

1976 born







I was born on 10 July 1976 in Poland. I learned lutherie in the A. Kenar State Secondary School of Art in Zakopane (1992 – 1996), and subsequently (2002) completed studies in the lutherie class of Antoni Krupa at the I. J. Paderewski Academy of Music in PoznaƄ.I was awarded his Master of Arts degree in lutherie on the basis of a manufactured violin, the conservation of varnish on a violin, and the written work Zagadnienia związane z retuszem i konserwacją lakieru w instrumentach lutniczych [Issues Conected with the Retouching and Conservation of Varnish in Stringed Instruments]. Since 2002 I have run my own lutherie workshop in PoznaƄ.